In the world of rapidly changing technologies IT environment of the company is often a mixture of outdated and modern IT systems that must clearly interact and meet the requirements of the business. Wnet ensures the support of both the IT infrastructure as a whole and it's individual components.
we audit and optimize IT infrastructure, while reducing costs;
structured cabling and fiber optic cable installation;
we configure and maintain network and computer equipment;
we build and service Wi-Fi networks;
24/7/365 proactive monitoring;
IT infrastructure support in remote offices;
we fix the problems within the agreed deadlines remotely or on site.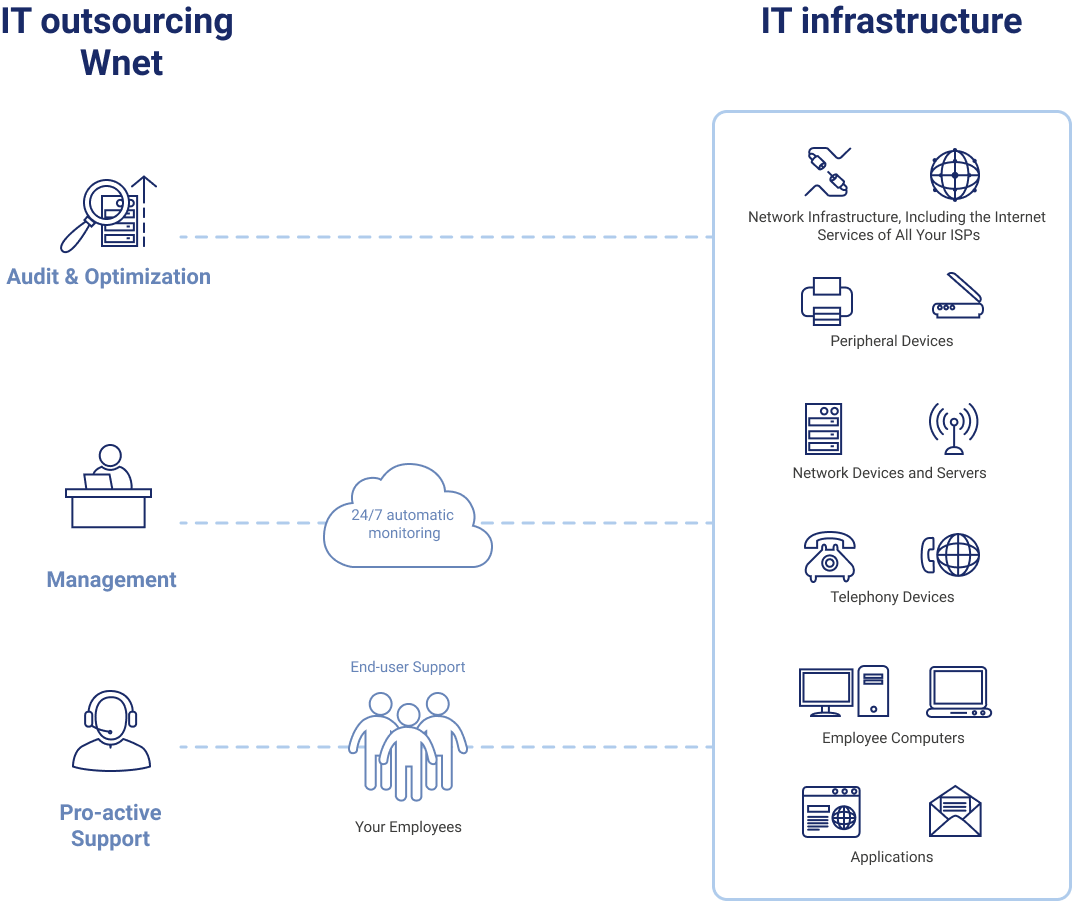 Our IT services allow to significantly decrease the expenses through detailed study of the scope of work, the level of service and by applying the best practices. Thus, the customer saves time on solving IT related problems. Proactive infrastructure monitoring provides peace of mind and confidence and allows you to focus on your core business.
At the beginning of cooperation, we determine the requirements of the business and conduct an audit of the customer's IT infrastructure. Based on the results of the audit, we formulate the technical task and outline the further maintenance. We develop a plan for necessary changes, implement them and monitor and support your IT systems.
All the necessary equipment, components and supplies are kept at our warehouse or can be ordered and delivered rather quickly. Our IT services are available in Kiev, Kharkov, Dnipro, Odessa, Lviv and Vinnytsia.
More and more businesses are choosing to transfer data to the cloud or host server equipment in geographically remote data centers. We help to do both: secure the transfer itself and provide access to data with the necessary speed and packet delay. Our expertise in network and cloud technologies gives the greatest synergistic effect in solving problems of this type.